Poem of William Hermanns
P264
Ten Words to the Creative Spirit
Give me Grace so I walk uplifted through this day.
Give me Joy so my heart has enough and to spare for others.
Give me Peace so an angelic spirit accompanies me wherever I go.
Give me Love so darkness changes to sunshine where I am.
Give me Healing so spirit is the light of the flesh.
Give me Mercy so my free will chooses mercy.
Give me Trust so no despair can grip my soul.
Give me Power so I can speak with authority.
Give me Wisdom so I cannot be bribed by intellect.
Give me Feeling so I can vibrate your truth.
William Hermanns
[P264]

Trustee's Note: In his 80th year in 1975 and having suffered in two world wars, my mentor, the poet and educator William Hermanns, carefully chose the words for his poem Ten Words to the Creative Spirit, to bring myself, as his spiritual son, into alignment with my True Self, my Soul, as I assisted him preparing essays and manuscripts about his mentors, including Francis of Assisi, Einstein and Yogananda. In the summer of 2015 I rediscovered this poem and remembered that I saw the Ten Words in action in my mentor's presence. In my reflection I saw how the presence or lack of any of the Ten Words affected my life since he passed away in 1990 after assisting him and caring for each other for 20 years. I see the Ten Words now as vital spiritual functions on the instrument panel of my Soulcraft that is travelling through myriads of circumstances, familiar and strange, and these ten functions when ON are able to influence relationships, even the non-human, with clear perception of self and others and affect the manifestation in space and time around the Soulcraft to guide it in the timing of Creative Spirit. When OFF, my Soulcraft is vulnerable to collisions with Reality flying partially blinded, as well as prone to predation by such spirits as fear, greed and revenge.

Reading these Ten Words in the morning to start the day, puts them ON in my consciousness. If I notice a lack in any of the Ten Words, maybe through an upset, all the more the reason to tell Creative Spirit of the need for my Soul to increase its function for me to live optimally as the incarnation of the Creative Spirit. My wife and partner Elaine says it works for her, too.

Here is an example: Watch when you meditate with just one breath on the verse with the word Peace. Just a moment, one breath. This can be done in any circumstance. Notice how your perception of people and other creatures is affected. Notice how around you people and non-humans respond. They feel the peace and then become angels in helping you – for they feel one with peace aligned with Creative Spirit. it is core to them, too, and they want to serve peace and the person that is responsible for incarnating that peace with the Word. The other 9 Words work in their way, each uniquely suited for the moment. Notice also the relationships and synergy between each of the Ten Words, and they will become especially useful as the Wisdom grows in you. The Ten Words are not confined to one or no religion but common to all. Creative Spirit does not have to be a person but can - it is Spirit, capitalized or not.

No Soul should be without these Ten Words, and no Soulcraft without these ten functions. It would be good if the Ten Words would somehow blink in the morning and cause your attention to turn ON each of the Ten Words for the day's journey in Creative Spirit! I am handing out cards with this printed on it. I love the genuine smiles of joy and even relief , as well as the conversations that ensue. I have memorized the lines so I can repeat them on my walk, or in the car, alone or with people. Let me know how they work for you by emailing me and/or by Liking the facebook page William Hermanns - Life and Works. Kenneth E. Norton, Trustee, ken@williamhermanns.com
The image below can be shared.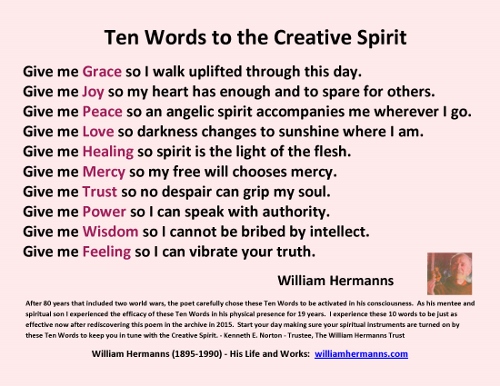 Please support
our sponsors
Click on image to be directed
to their website
~~~~~~~~
Your Sponsorship Here
~~~~~~~~
~~~~~~~~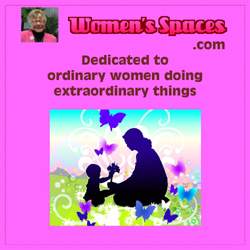 ~~~~~~~~
Norton & Holtz
Business Solutions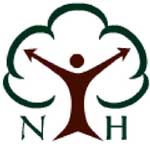 ~~~~~~~~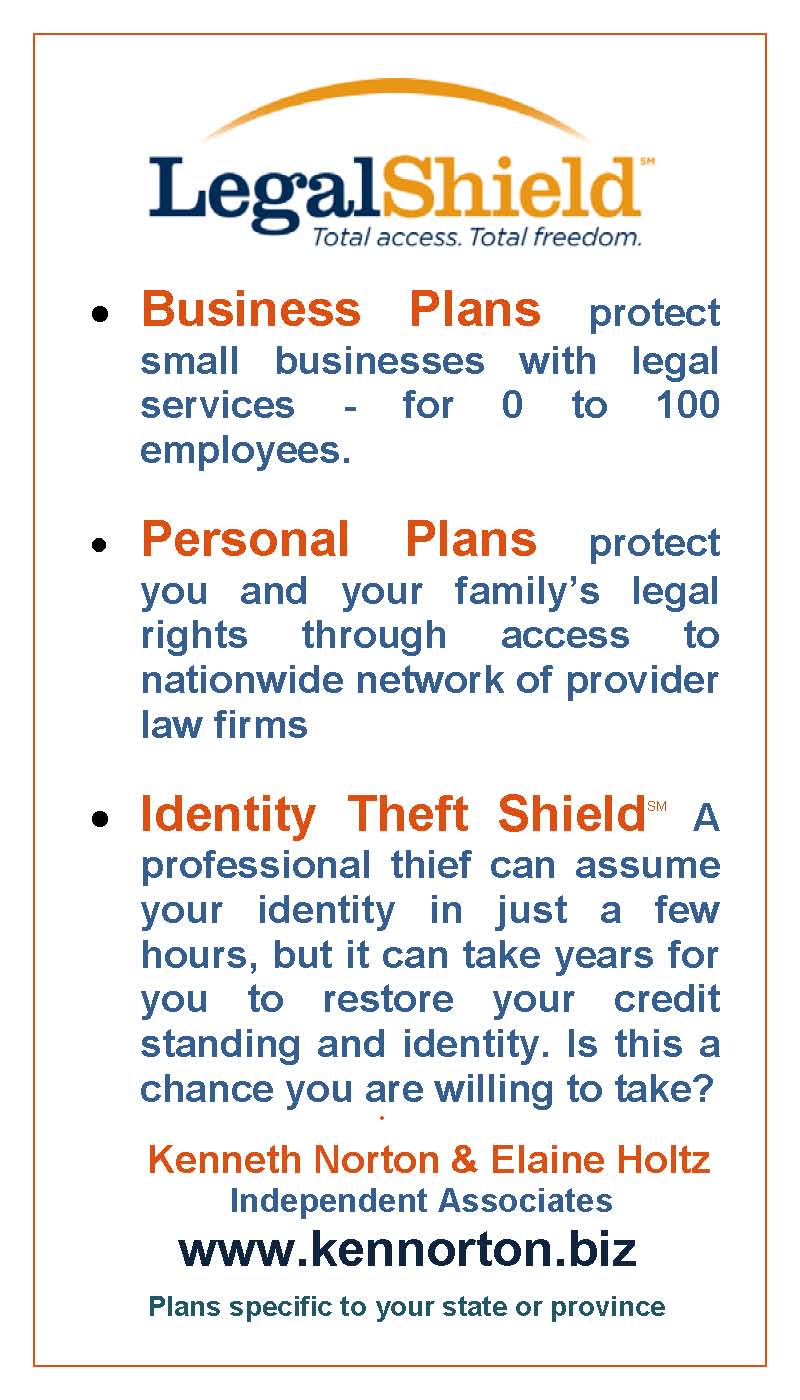 ~~~~~~~~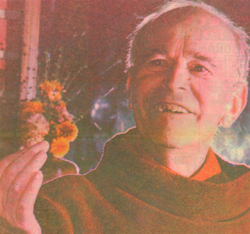 ~~~~~~~~
Published Books
- Click cover image
for it's webpage: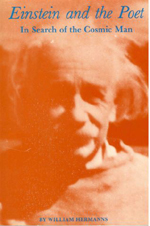 Available at Amazon





---



Inquire on out of print books
~~~~~~~~